To place an order with Stern Defense, navigate through our products, add the items you want to the cart. When done, click the cart in the top right corner and follow the on screen instructions.
Currently, Stern Defense accepts: Visa, MasterCard, American Express and Discover.
After completing a purchase, you will receive a confirmation email to the email address you provided at checkout. Tracking and all relevant information will be sent to you automatically. Alternativley, you can "Sign In" to your Stern Defense account and view your orders. If you do not have an account please tap "Sign In" in the top right corner and then "Create Account".
Thank you for shopping at getstern.com.
We want you to love our products as much as we do.
ALL Sales Are Final.
Warranty
Stern Defense offers you a warranty against defects in original materials and workmanship. If your Stern Defense product contains such defects, Stern Defense will take necessary actions to repair, or replace your product. Be sure to retain your original order number as a proof of purchase when making a claim.
What the warranty covers.
Stern Defense LLC products are warranted against defective materials and workmanship for 1 year from date of purchase to the original purchaser. Stern Defense's commitment to this warranty will be limited to, repairing or replacing products upon inspection and (on its discretion) found to be defective in material or workmanship. This warranty is limited and does not extend to: improper handling, unauthorized changes or modifications, misuse, abuse, excessive or senseless use, ordinary wear and tear, corrosion or obstructions.
The solutions provided by this warranty only extend to the original purchaser.
What we do not cover.
The warranty in this agreement is the only exclusive warranty related to the product. Stern Defense rejects any warranty express or implied, including but not limited to, warranty of worth or use for a specific purpose. Stern Defense, shall not be responsible for any damages resulting from any means, without limitations, delay cost, lost profits, regarding financial loss or injury to property or to third parties

How to return your item
You have 1 year to return an item from the date you received it.
Your item needs to have the receipt or proof of purchase containing the order number.

Please click contact us and send us a message. Please include your order number, name and what is wrong with the product.

Merchandise must be return shipped in a protective box

Inspection process
Once we receive your item, we will inspect it and notify you that we have received your item. If, after inspection, no defect is found or a defect relating to misuse you will be responsible for the cost of returning and repairing the item. We will contact you for payment and if no payment is received within 30 days we will restock the item and no refund will be issued. If the defect was caused by workmanship or defective materials we will repair or replace your product. This will be free of charge and the shipping cost to return the item will be on us. We cannot honor requests for returns out of the USA or if you have moved to a state that restricts the product we are returning.
Shipping
You will be responsible the shipping costs to return your item.

Return your item to:
Stern Defense
20780 Suite A State Route JJ
Summersville, MO 65571
Something is wrong with my order
Send us a message by clicking "Contact Us" on the navigation menu. Please include your name and order number in the message.
Buffers and Buffer Tubes - Length/weight
FULL AUTO
If you plan on using any blowback setup with a full auto lower receiver the use of a dead blow type of buffer will be necessary. This will prevent bolt bounce and potential case failure/hammer follows. A dead blow buffer will contain weights and spacers that move freely inside of the buffer and provide a dead blow effect. Our H3 buffer is a fine example of this.

LENGTH
When building an ar-15, it is critical to pay attention to the length of buffer you are using and the length of the tube. Also note if spacers are required for the particular length buffer and buffer tube combo you intend to use.
If proper procedure is not followed, this can result in a catastrophic failure of any ar-15 system by causing the gas key to be sheared off.

Please note how the gas key is contacting the lower receiver in the picture below. This is not what you want. There should be clearance between the lower and the back of the gas key.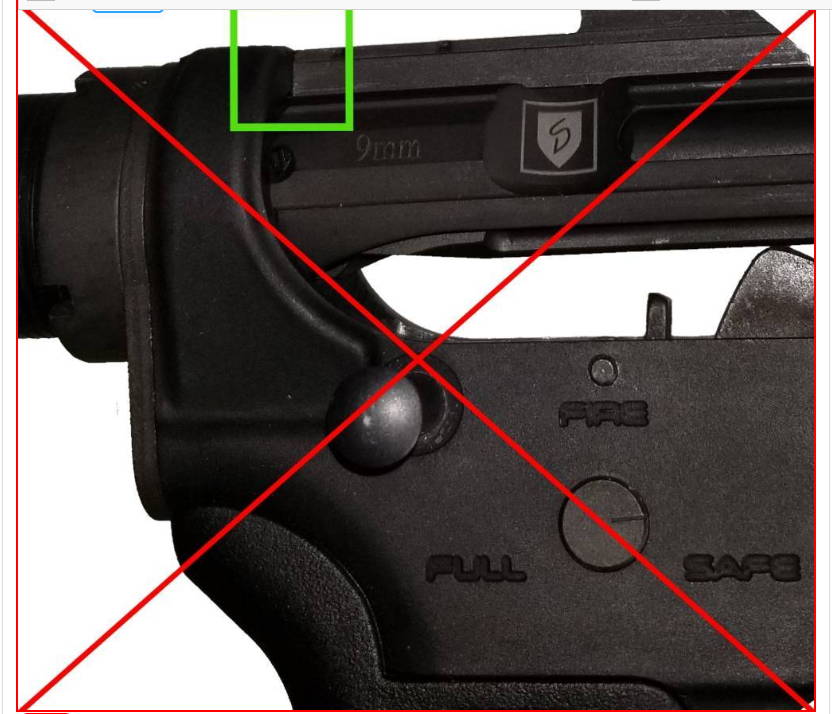 BUFFER WEIGHTS
While it is possible to use a standard weight carbine buffer with a 9MM PCC blowback system and in testing we have experienced no issues, we still recommend the use of an H3 "5.4 ounce" buffer or heavier for 9MM/40SW and 11 ounce buffers for 45ACP pistol caliber carbine systems. This increases dwell time and slows the travel of the bolt prolonging the life of your components. You can find an H3 "5.4 ounce" buffer HERE and an 11 ounce buffer HERE.
Can you make an adapter for Glock 45 ACP magazines or 10MM?
Answer: NO

Unfortunately, Mil-spec lower receivers are too narrow to fit large frame Glock magazines.

Do you have a conversion block for "this magazine"?
All adapters that we currently offer are found HERE

All future developments will be sent out via our email list or social media. You can sign up for our mailing list at the bottom of this page or any page.
Also you can sign up to our social media below.
Is "insert object here" legal in/for the "blank"? Why not?
Stern Defense does not offer legal advice. We are not legal council and local laws vary so much that you, (the customer) are ultimately responsible for following the law. Always research the legality of the items you purchase beforehand.

Helpful resources:
https://www.nraila.org/gun-laws/

---
---
OLDER GENERATION GLOCK MAGAZINES 2004, PRIOR & AFTERMARKET
Will it work with this magazine?
Glock 26 & 27 magazines are too short and can not be used.
Although the MAG-AD9 works with many aftermarket magazines, we recommend using post 2004 square notch, Glock OEM magazines. As these will provide the best fit and function.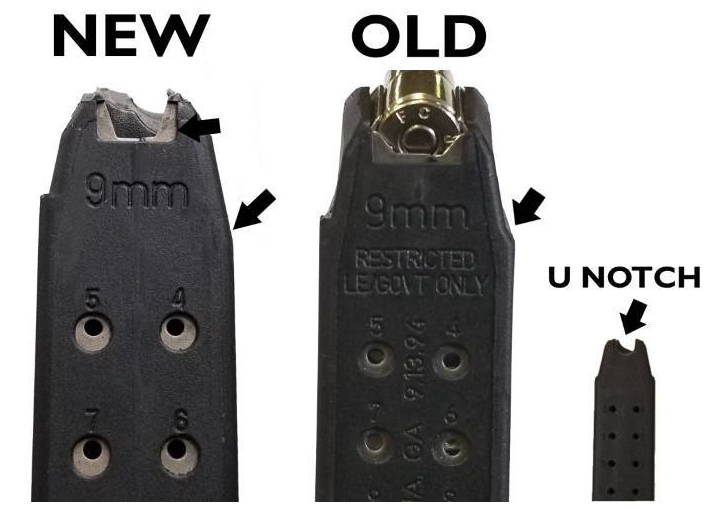 NOTE:

Please note the above picture, notice the lack of a ledge on the new magazine as compared to the old. Also please note the (SQUARE) shaped notch on the new magazine as compared to the (U) shaped notch on the far right magazine.
(U NOTCH) magazines are very early generation glock magazines, they were not fully metal lined and due to this they expand when loaded causing reliability and insertion issues.

2004 and prior magazines (SQUARE and U-NOTCH) also contain a ledge on the right hand side as noted by the above picture.

While in some situations these magazines can still be used with the MAG-AD9 series, they may require more force to seat the magazine or may not seat at all. Some very light modification can be done to the magazines to allow them to seat easier.
We still do not recommend the use of U-Notch magazines, as even with modification, they may not work or be reliable due to the lack of a full metal liner and expansion when loaded.

If you want to use these types of magazines, you can slightly modify the magazine in order to fit. See figures 1 and 2 below.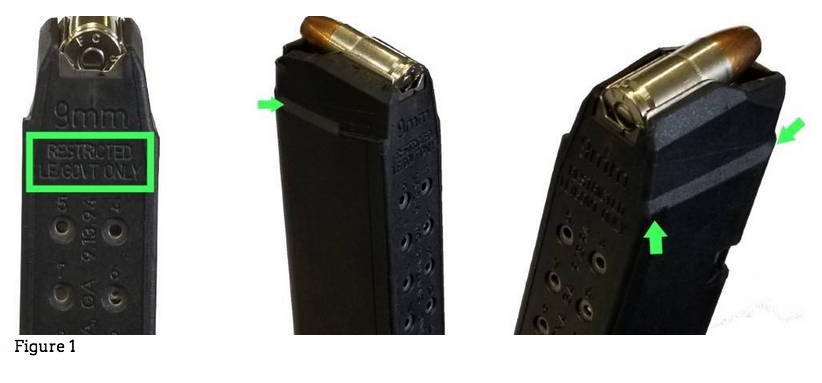 If you have these older magazines and wish to use them. Please note the areas of the magazines that will need modification.
Figure 2
If you wish to use these magazines, you can take a simple household file and bevel the indicated edges slightly ( green arrows as shown in figure 2.) This will allow the magazine to seat fully without excessive pressure. This should be done in small increments with test fitting and should not affect the use of the magazine in Glock pistols. DO NOT MODIFY THE AREA INDICATED BY THE RED BOX.

While we have experimented with this and have had zero issues. Stern Defense accepts no liability for modifications you make to your magazines, If you decide to do this you do so at your own risk.
WILL IT WORK WITH MY LOWER?
The MAG-AD9 will not function properly on mag wells with irregular contours, "3D skulls, waves, and other non mil-spec contours."
NOT recommended for non mil spec billet lowers.

For the best experience, please use the MAG-AD9 with ar-15 and m16 mil-spec lower receivers.

If you have a billet lower please see the guide below to further assist with compatibility troubleshooting.

(The picture below shows a lower that is compatible.)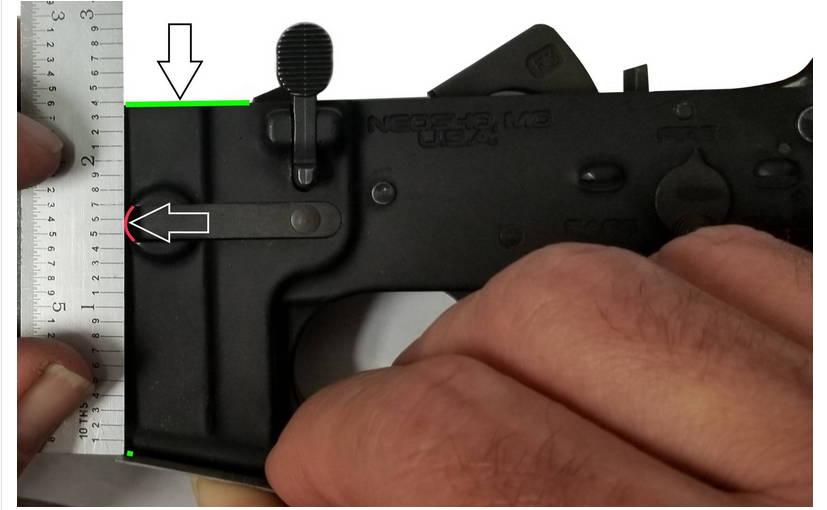 Please place a scale on your lower perpendicular to the top of the lower, (indicated by a green line with an arrow.) The edge of the scale should run tangent to the radius indicated in red as shown. The final point of the scale should rest on the bottom of the magwell. The distance across this point should not exceed 2 & 13/32 inches. or 2.406 inches.
WILL IT WORK WITH MY UPPER?
The MAG-AD SYSTEM is designed to be used with ar-15 and m16 mil-spec upper receivers and Glock cut Colt style bolts..
The MAG-AD System is not compatible with the CMMG Radial Delayed Blowback System.
BOLT COMPATIBILITY , GLOCK CUTS AND BOLT MODS
BOLT MOD

STERN DEFENSE DOES NOT RECOMMEND THE USE OF BEAR CREEK ARSENAL BOLTS. Due to multiple compatibility issues and variations from normal PCC bolt geometry; certain BCA bolts can create UNSAFE operating conditions. As it is hard to narrow down which exact run of BCA bolts can create these conditions, we recommend not using any BCA bolt with our products and will not cover damages caused by the use of these bolts. We are also not offering bolt modification or Glock cut services for these bolts.
Recent development, the MAG-AD9 system is not compatible with some New Frontier, PSA Hybrid, Brownells, or Foxtrot Mike bolts. This is due to the lug which strips a round off of the magazine being further from center-line as compared to Colt bolt systems. If you are looking to use these bolts with with our system we will provide bolt modification services with the purchase of a mag-ad9. The bolt must be Colt style other than the stripper lug length as indicated below. If you are unsure of your bolt style please send a picture of the bottom of your bolt to info@getstern.com. If you would like to use the service you can find it HERE.

The picture on the left is compatible the one on the right will need modified. Lug should be between .120 and .130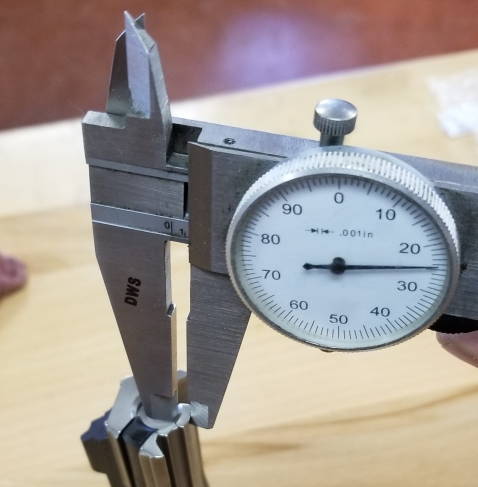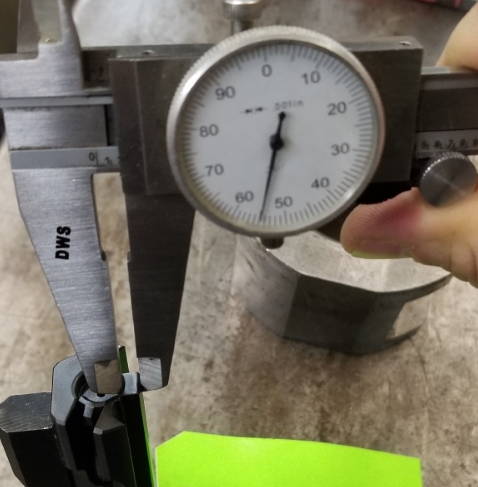 ---
GLOCK CUT
If you have a Colt style bolt that is not Glock cut and wish to use our system, we have a service that will make your Colt style bolt compatible with Glock magazines. For more information click the following link. Glock Cut Service
The picture below illustrates what a Glock cut is.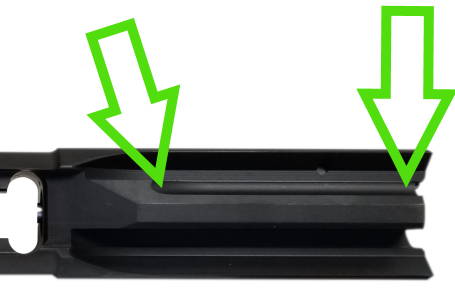 ---
40SW and 45ACP
Feeding 40SW and 45ACP reliably will require the use of a bottom feed bolt, please see the pictures below to better illustrate what this means. All Stern Defense .40 and .45 bolts are bottom feed.

---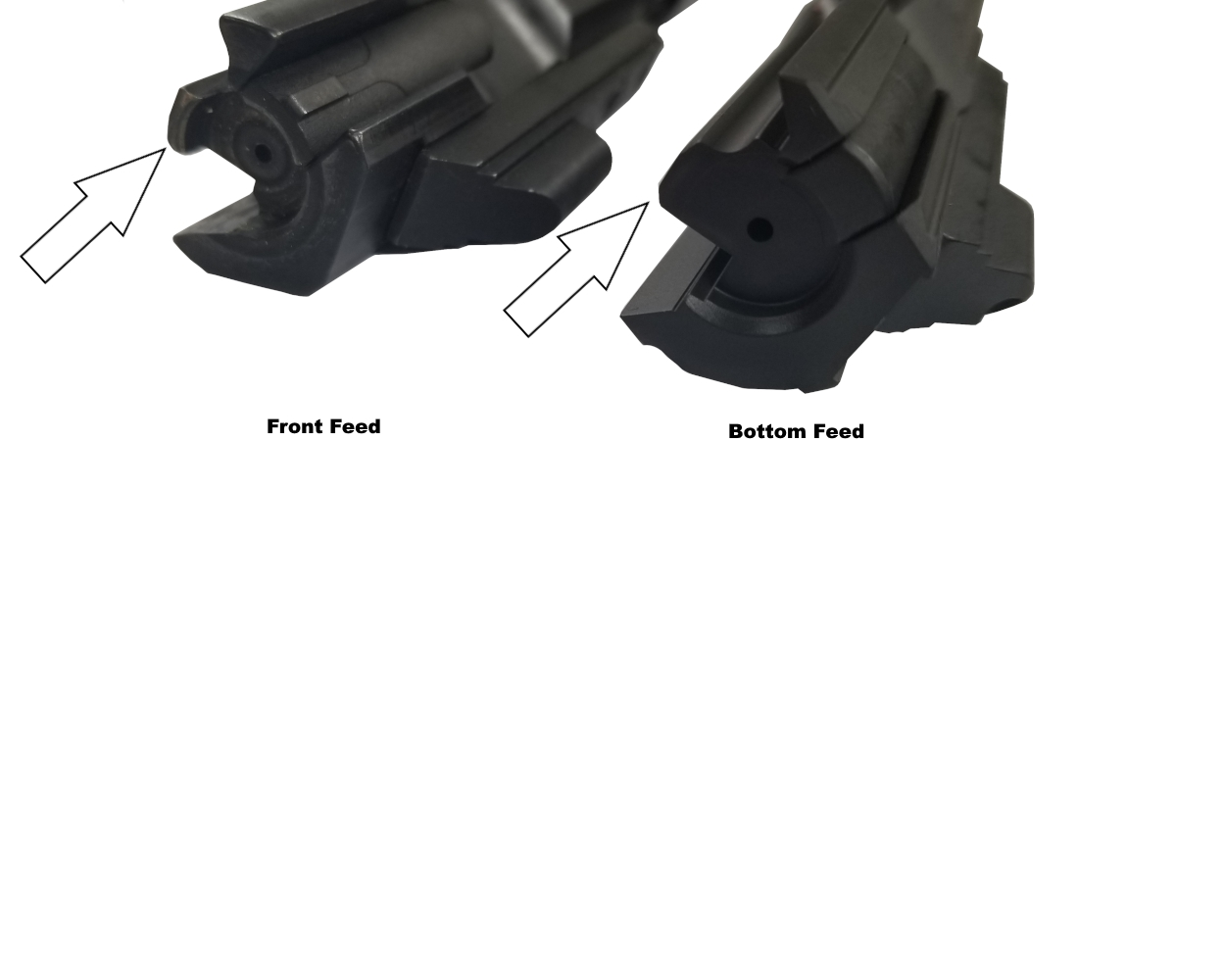 THE MAG-AD SYSTEM IS NOT COMPATIBLE WITH OLYMPIC ARMS BOLTS, UPPERS OR BARRELS.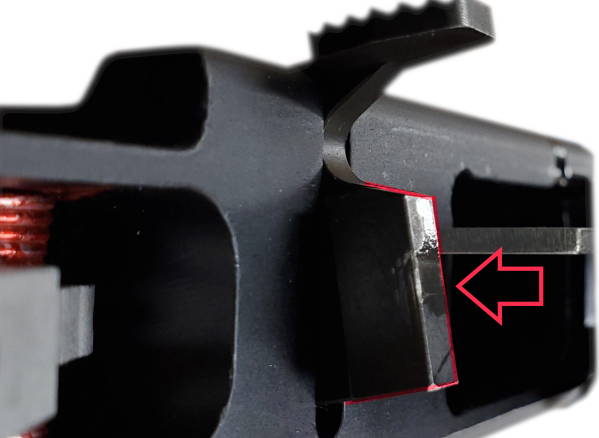 ANDERSON DEDICATED PCC LOWERS HAVE A NON STANDARD HEIGHT BOLT CATCH THAT WILL INTERFERE WITH OURS AND MANY OTHER MODERNIZED COLT STYLE BOLTS. THIS DESIGN DIFFERENCE CAN MAKE THE UPPER IMPOSSIBLE TO MATE TO THE LOWER OR HANG UP THE FIREARM. THE ONLY REMEDY TO THIS IS HAVING A LOCAL GUNSMITH REMOVE MATERIAL FROM THE TOP OF THE BOLT CATCH, PLEASE KEEP IN MIND THIS WILL LIKELY VOID ANY STANDING ANDERSON WARRANTIES.