---
Please click below. If you have a question not covered here, please contact us.
---
OLDER GENERATION GLOCK MAGAZINES 2004, PRIOR & AFTERMARKET
Will it work with this magazine?
Although the MAG-AD9 works with many aftermarket magazines, we recommend using post 2004 square notch, Glock OEM magazines. As these will provide the best fit and function.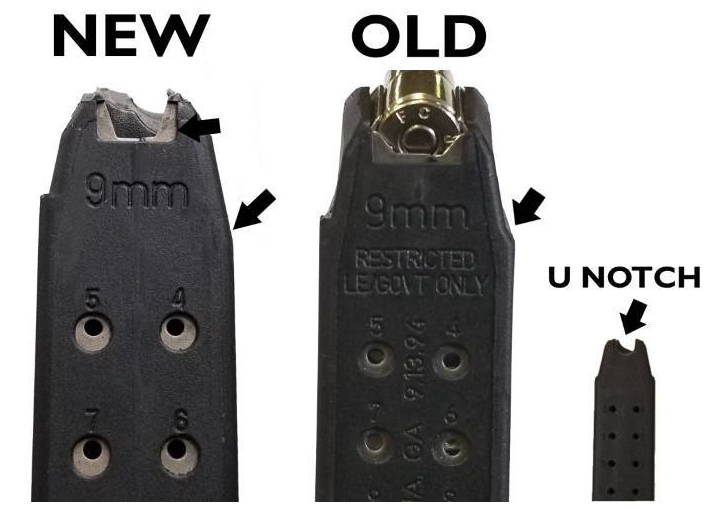 NOTE:

Please note the above picture, notice the lack of a ledge on the new magazine as compared to the old. Also please note the (SQUARE) shaped notch on the new magazine as compared to the (U) shaped notch on the far right magazine.
(U NOTCH) magazines are very early generation glock magazines, they were not fully metal lined and due to this they expand when loaded causing reliability and insertion issues.

2004 and prior magazines (SQUARE and U-NOTCH) also contain a ledge on the right hand side as noted by the above picture.

While in some situations these magazines can still be used with the MAG-AD9 series, they may require more force to seat the magazine or may not seat at all. Some very light modification can be done to the magazines to allow them to seat easier.
We still do not recommend the use of U-Notch magazines, as even with modification, they may not work or be reliable due to the lack of a full metal liner and expansion when loaded.

If you want to use these types of magazines, you can slightly modify the magazine in order to fit. See figures 1 and 2 below.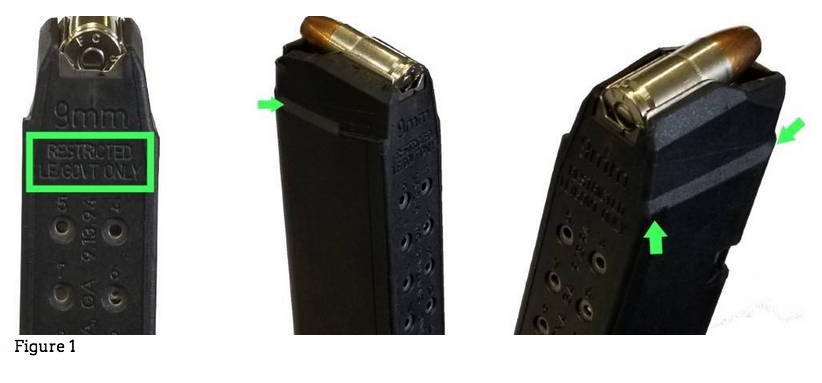 If you have these older magazines and wish to use them. Please note the areas of the magazines that will need modification.
Figure 2
If you wish to use these magazines, you can take a simple household file and bevel the indicated edges slightly ( green arrows as shown in figure 2.) This will allow the magazine to seat fully without excessive pressure. This should be done in small increments with test fitting and should not affect the use of the magazine in Glock pistols. DO NOT MODIFY THE AREA INDICATED BY THE RED BOX.

While we have experimented with this and have had zero issues. Stern Defense accepts no liability for modifications you make to your magazines, If you decide to do this you do so at your own risk.
WILL IT WORK WITH MY LOWER?
The MAG-AD9 will not function properly on mag wells with irregular contours, "3D skulls, waves, and other non mil-spec contours."
NOT recommended for non mil spec billet lowers.

For the best experience, please use the MAG-AD9 with ar-15 and m16 mil-spec lower receivers.

If you have a billet lower please see the guide below to further assist with compatibility troubleshooting.

(The picture below shows a lower that is compatible.)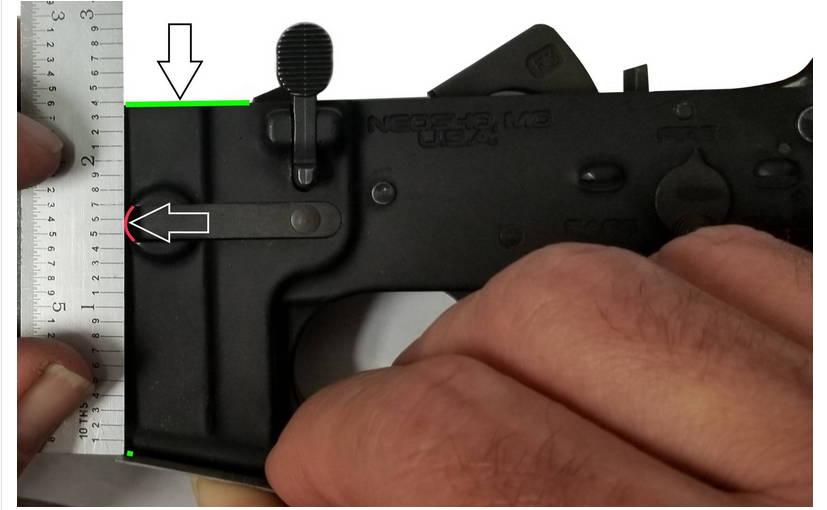 Please place a scale on your lower perpendicular to the top of the lower, (indicated by a green line with an arrow.) The edge of the scale should run tangent to the radius indicated in red as shown. The final point of the scale should rest on the bottom of the magwell. The distance across this point should not exceed 2 & 13/32 inches. or 2.406 inches.
WILL IT WORK WITH MY UPPER?
The MAG-AD9 is designed to be used with ar-15 and m16 mil-spec upper receivers. The MAG-AD System is not compatible with the CMMG Guard.

BOLT COMPATIBILITY , GLOCK CUTS AND BOLT MODS
BOLT MOD

Recent development, the MAG-AD9 system is not compatible with New Frontier, PSA Hybrid or Foxtrot Mike bolts. This is due to the lug which strips a round off of the magazine being further from center-line as compared to Colt bolt systems. If you are looking to use these bolts with with our system we will provide bolt modification services with the purchase of a mag-ad9. The bolt must be Colt style other than the stripper lug length as indicated below. If you are unsure of your bolt style please send a picture of the bottom of your bolt to info@getstern.com. If you would like to use the service you can find it HERE.

The picture on the left is compatible the one on the right will need modified. Lug should be between .120 and .130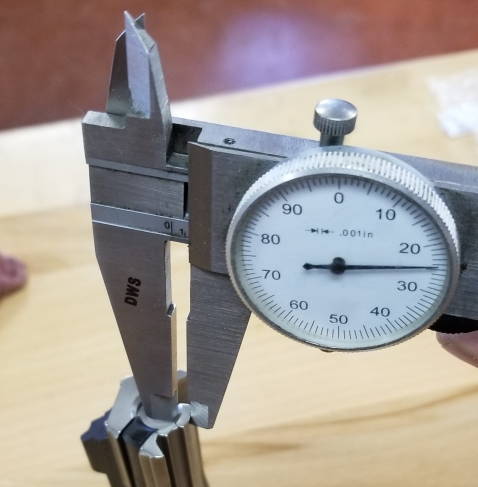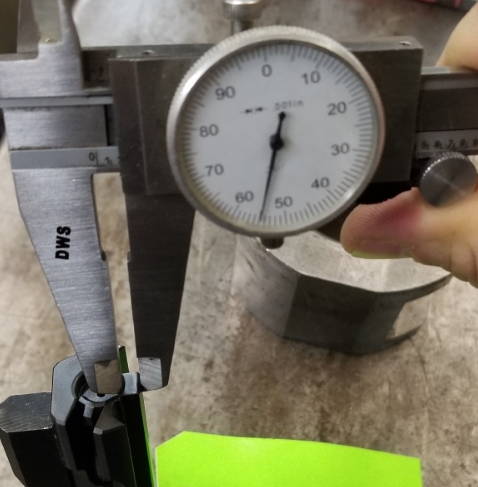 ---
GLOCK CUT
If you have a Colt style bolt that is not Glock cut and wish to use our system, we have a service that will make your Colt style bolt compatible with Glock magazines. For more information click the following link. Glock Cut Service
The picture below illustrates what a Glock cut is.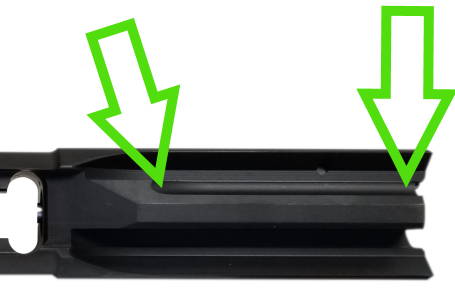 ---
40SW and 45ACP
Feeding 40SW and 45ACP reliably will require the use of a bottom feed bolt, please see the pictures below to better illustrate what this means. All Stern Defense .40 and .45 bolts are bottom feed.

---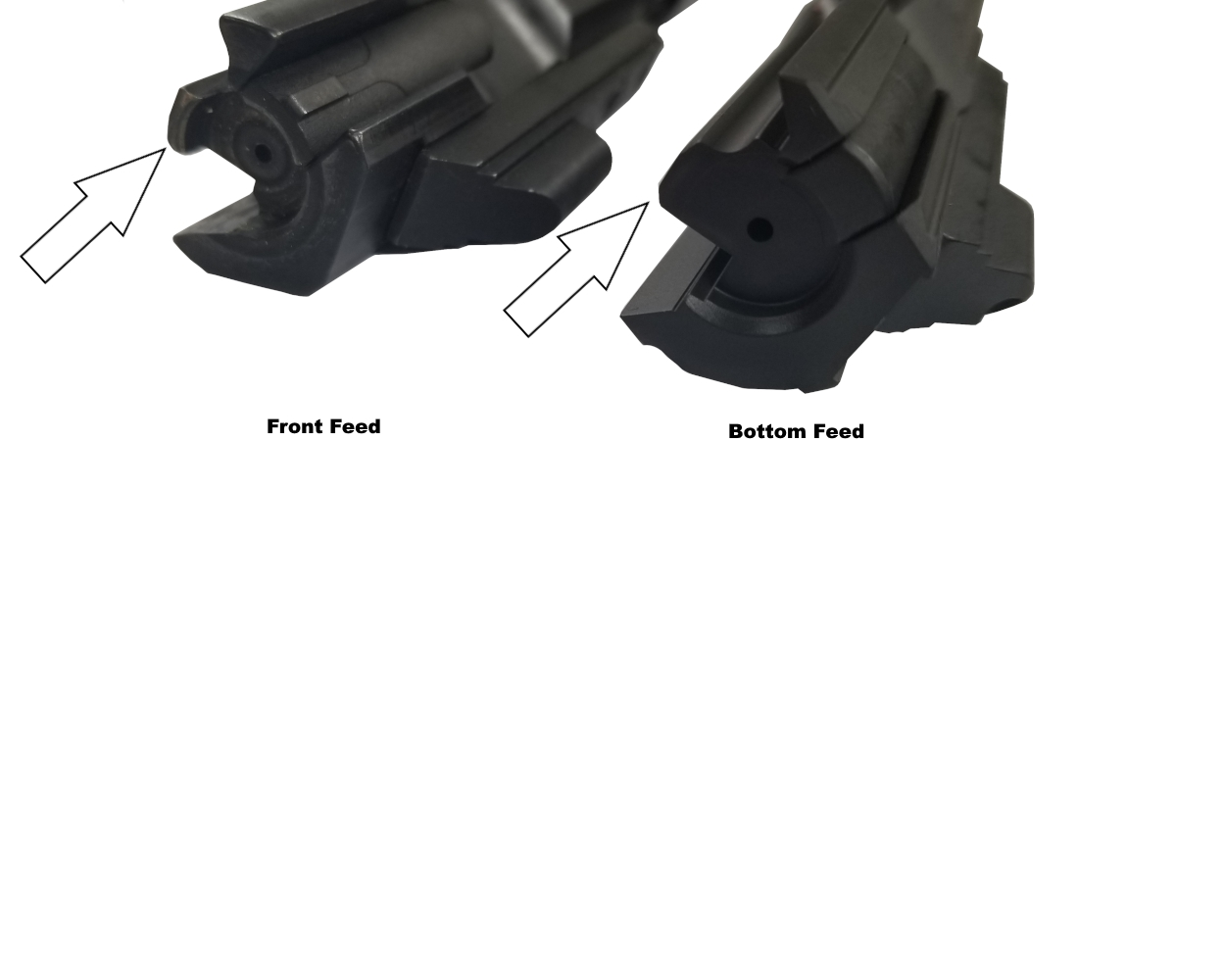 THE MAG-AD SYSTEM IS NOT COMPATIBLE WITH OLYMPIC ARMS BOLTS, UPPERS OR BARRELS.